In line with the New Year- New You bootcamp diet guidelines, Thai Green Curry can be eaten often and freely.
I have at least two of these a week, and the beauty lies in its simplicity!
Ingredients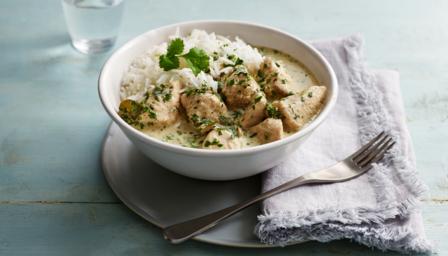 Preparation method
Heat the oil in a wok or large frying pan.
Add the green curry paste and cook over a fairly high heat for about a minute, stirring with the lemongrass, if using.
Reduce the heat slightly and stir in the chicken pieces and lime leaves or zest until coated in the paste.
Add the coconut milk, fish sauce and bring to a simmer, cooking for 25-30 minutes until thickened slightly.
Stir in the coriander and lime juice.
Check for seasoning, adding more fish sauce if needed.
Enjoy!
Christian Vila